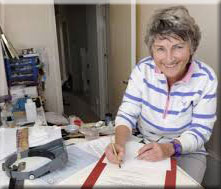 Jan Pickett is a professional Calligrapher, Lettering Artist & Illustrator, undertaking many & varied commissions, both commercial & private.
Commercial work includes lettering for the UK Greetings card industry, memorial scrolls & books for the Royal Navy & RNLI to formal Heraldic Illumination & TV illustration.
Private work covers absolutely anything from hand written wedding stationery, invitations, poems and prose to special birthday cards and Illustrations. There is something for everybody and I really look forward to hearing from you to discuss your needs - check out the latest decorated initials page for that special gift, or my new book...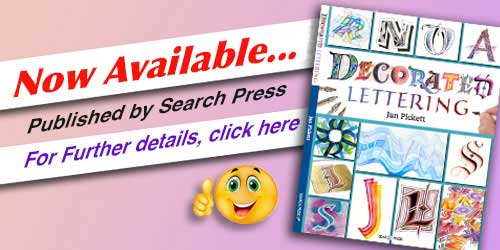 Jan is an Honoured Fellow of the Calligraphy and Lettering Arts Society (CLAS) and a Fellow of the Society of Scribes and Illuminators (SSI) and is active in both Societies. She teaches weekly Adult Education classes in Portsmouth and monthly 'Pen-pals' day workshops during term time. She teaches mainly in UK and travels both nationally & internationally to teach a variety of workshops. She has taught in Finland, Japan, Australia and Norway ...and delighted to be invited back to Japan again in September 2019