Commissions...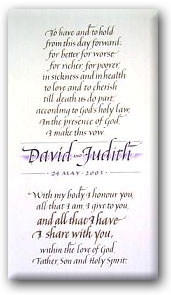 Hover mouse over images to see further examples...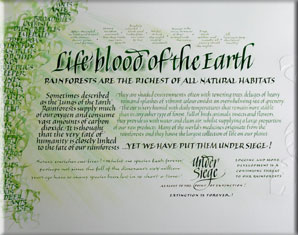 For all those special occasions; wedding and other celebrations, commemorations and personalised gifts, Jan will create that unique gift in a suitable calligraphic style. It could be enhanced with decoration, gilding, illustration, embossing... whatever is right for you - it will be entirely personal.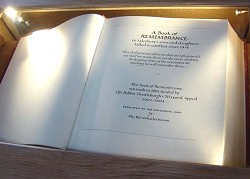 Traditional or contemporary, formal or informal, possibilities are endless.
Repeats and adaptations of any design on the website are available.

Please contact Jan to talk about your requirements.after initial discussions, estimates can be tailored to suit budgets, proceeding to a 'working rough' for further/final discussion.

Commissions include the CLAS 90th Birthday card for Hermann Zapf, the Salisbury Memorial Book, Annual RNLI Bravery awards, Personalised Wedding, Birth and anniversary Celebrations and the presentation Scroll from the Lindo Wing of St Mary's Hospital, London to the Duke and Duchess of Cambridge on the birth of Prince George.